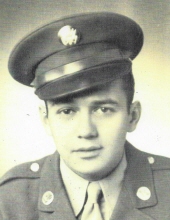 Obituary for Peter G. Contompasis
Peter G. Contompasis

Age 96 – Hockessin, Delaware

Peter G. Contompasis, age 96, a long-time resident of Springfield, Delaware County, PA passed away peacefully on September 14, 2017.

Peter was born on March 17, 1921 in Schenectady, New York. His parents were the late George and Vasilike Exis Contompasis. Peter had two older sisters, Demetro and Hanthy and a younger brother, Petro. The children of George and Vasilike have now all passed but their memories live on through family and friends. It is noteworthy and somewhat remarkable that each sibling lived well into their 90's and maintained a strong and loving relationship with one another.

Peter was the husband of the late Evangeline T. Contompasis. Together they shared over 50 years of marriage. He is survived by his sons, George (Marion) of Lansing Michigan, Jonathan (JoAnn) of Wilmington, Delaware, and daughter, Debra (Joseph Messina) of Collegeville, Pennsylvania. Peter loved and adored each of his six grandchildren, Peter, Karin, Christopher, Andrew, Andrea, and Sarah plus his 4 great grandchildren, Piper, Eva, Josephine, and Leo.

Peter proudly served in the US Army during WWII, stationed in Saipan with the 871st Bomb Squadron. He was an electronics specialist who headed a team that installed and repaired aircraft radar equipment. He was honorably discharged December 4, 1945 with the rank of Master Sergeant returning to his family and friends in Schenectady.

Peter enjoyed an over 40 year career with the General Electric Company – Missile and Space Division. He started in Schenectady, spent time at Cape Canaveral Florida during the exciting, early stages of the U.S. Space Program and finished his career in Philadelphia and Valley Forge as the all encompassing Manager of Logistics.

Peter was a generous man with an engaging personality. He was spiritual with a strong respect for tradition. Family was very important to Peter.

Just before the celebration of his 90th birthday Peter wrote an open letter to his family telling them of his zest for life; "Life is great - Live it, Love it, and Enjoy it." He also added; "think of me, once in a while when I'm gone, and smile".

Visitation will begin at 10 AM Friday, September 22, 2017 at St. Luke Greek Orthodox Church, 35 North Malin Road, Broomall PA, 19008. Funeral Service is at 11 AM. Burial will follow at Arlington Cemetery, Drexel Hill, PA.

In lieu of flowers donations may be sent to St. Luke Greek Orthodox Church.
Previous Events
Visitation
St. Luke Greek Orthodox Church
35 North Malin Road
Broomall, PA 19008
funeral service
St. Luke Greek Orthodox Church
35 North Malin Road
Broomall, PA 19008